Men's skincare is on the rise!
Have you noticed in recent years that more complexion care products for men are hitting the shelves?
If so, you're not imagining things. In fact, consumer trend studies report that the options for men's products are expanding on a global scale faster than just about any other niche. And it's not just a clever new sales strategy. Word is getting around that men need skincare too.
In truth, up until recently, this has been a largely ignored or neglected sector, but luckily more and more brands are recognizing the demand and taking the lead. This week Scenturie is launching some exciting new products created with our male customers in mind. So to mark the occasion, we're sharing a few of our favourite skincare tips and strategies specifically for men.
Men's Skin vs. Women's: Key Differences and Similarities
Something many consumers want to know is what makes male skin unique and why it requires a slightly different approach in terms of daily care? The answer to this is that while men and women share many of the same concerns – including wanting to prevent ageing, protect their skin against external stressors, and enjoy an overall healthy looking complexion – men's skin differs just slightly in terms of composition and condition.
For example, male skin tends to be more resilient, due to the fact that the epidermis is about 25% thicker. It also tends to have more collagen and elastin and to produce more oil overall.
This is all good news in terms of staving off the ageing process, however with these advantages come a few disadvantages, including more likelihood of experiencing rough texture, a more oily appearance, and more frequent acne breakouts. Additionally, taking into account other grooming practices like shaving, it's also worth noting that men's skin can be more vulnerable to concerns like irritation, minor abrasions, and ingrown facial hairs.
With this in mind, you can probably see why just a bit of soap and water isn't going to be enough to address so many unique concerns. While men's skincare needn't be complicated, investing in a few good products and targeted formulas that specifically take into account these factors is the most effective way to care for men's skin, prevent premature ageing, and keep it performing optimally.
So what do you need exactly, to build your perfect routine? Let's talk specifics:
In general, products for men's skin should contain simple, natural ingredients to prevent irritation post-shave, or overstressing the skin. They may also be formulated specially to promote balanced oil production, and hydrate the skin without clogging the pores.
For your daily complexion care, you don't need a ten-step routine. Instead, we recommend starting with the basics. Firstly, a good facial cleanser is essential for removing buildup of sweat, excess oil, dirt, bacteria, pollution, and other residue that can cling to your skin. You will then want to follow with an appropriate moisturiser for keeping your skin hydrated and reinforcing the skin's protective barrier.
Lastly, be sure to protect your investment in your skin with sun protection. For this step we recommend an SPF of at least 30, which should be applied every morning and re-applied throughout the day for optimal safeguarding.
Once you've got the hang of these steps, you can opt to add other enhancements, such as a facial scrub and a treatment serum for specific concerns like hydration, acne management, hyperpigmentation, or ageing.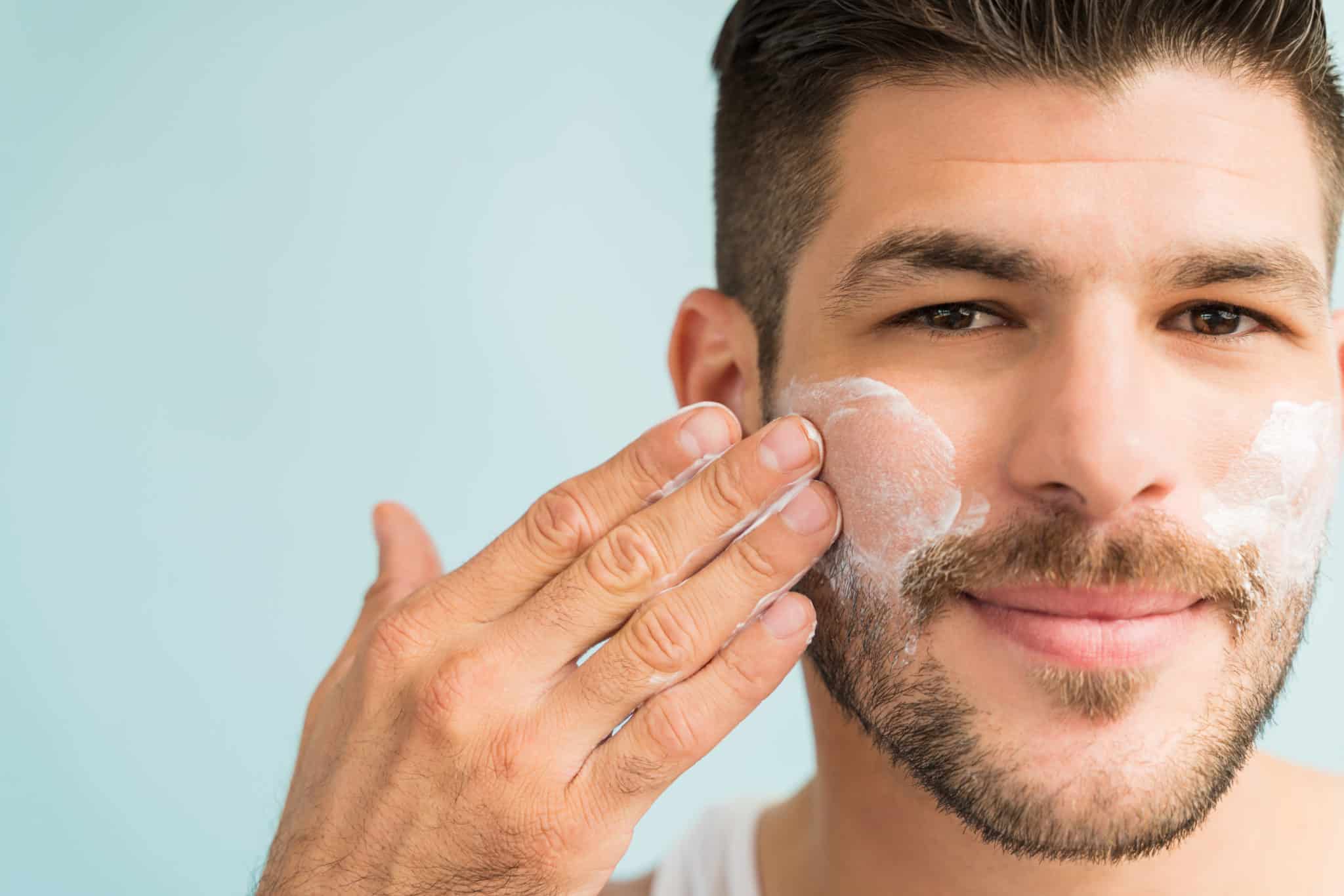 For most skin types, once per day is enough to maintain baseline skin health. However, using gentle, nourishing formulas like those featured in our men's collection, you can benefit additionally from cleansing and moisturising both in the morning and at night.
If you choose to exfoliate, you won't need to do so every day. Rather, a good goal would be to do this step a few times per week to polish away any buildup of dead skin or surface debris, and keep your skin super smooth.
The best skincare routine is one that you implement consistently, so daily application is a must if you want to see real results. If you have trouble remembering, you may find it helpful to keep your products in a handy place such as in your gym bag, on a bathroom shelf that's within your line of sight, or next to other staples you use daily like your deodorant, your toothbrush, or cologne. You can also try setting a reminder in your phone to jog your memory, if needed.
Introducing: Scenturie Natural Skincare MEN Collection
1. Men's Hydrating Face Cleanser
For a multitasking, gentle product that can be used by all skin types – including sensitive skin – our new Men's Hydrating Face Cleanser provides the perfect first step. It can be used as both a face wash and a shaving cream and won't strip the skin. Plus with ultra-hydrating botanical oils like avocado, grapeseed, apricot kernel, and sunflower, it works to infuse the skin with nourishment and promote better moisture retention.
How to use it: For best results, we recommend using our Hydrating Face Cleanser morning and night to cleanse the entire face and neck area. To use as a cleanser, massage it gently into the skin for a few minutes with damp fingertips and then rinse with cool or lukewarm water. To use as a shave cream, apply a thin layer to slightly wet skin, and shave as normal.
2. Men's Charcoal Coffee Face Scrub
Designed to provide just the right amount of exfoliation for a man's skin, our Men's Charcoal Coffee Face Scrub is naturally brightening, purifying, and full of antioxidant benefits. For this special formula we use finely ground coffee beans and pure activated charcoal, blended with premium plant oils like argan and chia seed. You will love how soft and smooth your skin feels after each use.
How to use it: One to three times per week, post-cleanse but before shaving, apply a small amount of scrub to your face and massage it gently into your skin using small circular motions. After a minute, simply rinse with warm water and pay dry. You can then follow with your other products.
3. Men's Enhancing Facial Moisturiser
Formulated with richly moisturising macadamia, jojoba, hemp seed, argan, and meadow foam oils, our Men's Enhancing Facial Moisturiser has a nice lightweight texture and minimal scent. It's the perfect finishing touch for calming the skin post-shave and keeping your complexion feeling hydrated and refreshed.
How to use it: When used in the A.M., moisturiser will be your second to last step before applying SPF, and your last evening step following cleansing, and any other treatment products. To apply, simply pat the product all over the face and neck, and massage it in gently until it is fully absorbed.
4. Men's Revitalising Skincare Set
1.What Is the Difference Between Male and Female Skin? By Dermatology Associates. https://dermatologyassociatesga.com/difference-between-male-and-female skin/#:~:text=On%20average%2C%20male%20skin%20is,it%20a%20tighter%2C%20firmer%20appearance.
2. 10 Things Estheticians Need To Know About Men's Skin Care By Associated Skincare Professionals. https://www.ascpskincare.com/updates/blog-posts/man-10-things-you-need-know-about-mens-skin-care
3. Global Men's Skincare Products Market to Reach $16.3 Billion by 2026 by Global Industry Analysts Inc. https://www.prnewswire.com/news-releases/global-mens-skincare-products-market-to-reach-16-3-billion-by-2026–301383000.html
All Scenturie natural skincare products are hand-crafted in small batches using pure, sustainable, plant-derived ingredients. All our products are proudly 100% vegan, cruelty-free, palm oil-free, eco-friendly, and backed by science.