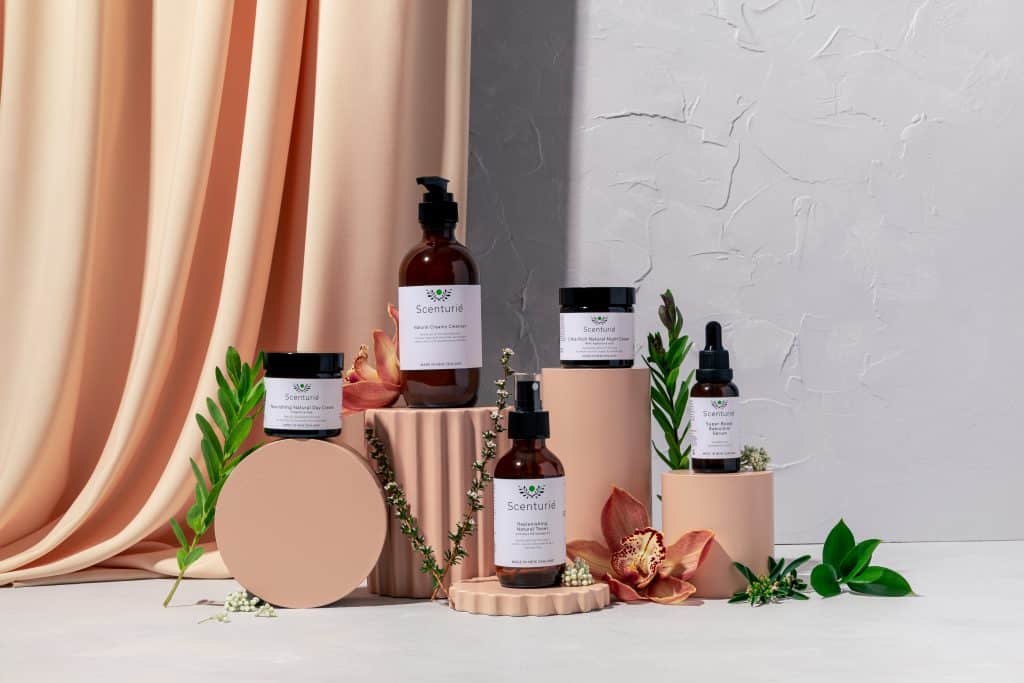 Our skin is the largest organ in our bodies and it absorbs much of what we put on it. Choosing skincare products that are natural, safe, and free from harmful chemicals is one of the most respectful things we can do for our bodies to enhance and maintain good health inside and out. The overall performance of a skincare product is dependent on the quality and proven effectiveness of its ingredients.
Scenturie is an authentic natural skincare brand with a difference. Our 100% natural premium products are proudly made in Aotearoa / New Zealand in small batches using the best of local and international sustainably grown plant-based ingredients. Every ingredient has been researched and selected for its proven ability to hydrate, nourish, repair, and protect skin. Our pure botanical oils and concentrated extracts are rich in powerful antioxidants and nutrients which help to nourish and protect the skin, stimulate cellular regeneration, and slow the breakdown of collagen and ageing. 
Our skincare products smell great too! We never use synthetic fragrances, preferring to let the beautiful natural scent of unrefined plant oils and essential oils shine through.
We research and select the highest quality botanical ingredients in their pure raw state for our products thus preserving the rich vitamins, minerals, and active properties within. The less refined and processed the better in our opinion. This results in a range of highly effective natural skin care products that deliver and support optimal skin nourishment and health.
Scenturies' philosophy is simple and based on Respect:
Respect for Ourselves, Respect for Others, Respect for Nature, and Respect for our Planet.
Our skincare products are cruelty-free, vegan, eco-friendly, sustainable, and our ingredients are used in quantities to be effective. All Scenturie products are free from animal products, synthetic chemicals and known irritants. We do not use parabens, sulfates, glycols, silicones, mineral oils, phenoxyethanol, phthalates, synthetic fragrances, or synthetic colours in any of our products. We are keen to share why avoiding these chemicals is so important, providing up-to-date information on our website, and regular scientific blogs to keep you informed. We do this because we believe everyone has the right to know exactly what they are putting on and in their bodies. Being informed allows you to make the best decisions for your health, and for that of your family.
All Scenturie processes have been carefully considered to bring you high quality, nutrient-rich products that are effective and live up to their promise. You can be reassured that when you buy our products, not only will your skin look and feel incredible, but you will be helping to reduce plastic waste, support sustainability, and preserve our natural environment for future generations to cherish.
As part of Scenturie's ongoing commitment to sustainable skincare packaging and reducing waste we have recently introduced our Returnable Product Packaging Service. This allows you to return your empty Scenturie glass jars and bottles to us where they will be sterilised and either refilled and reused, and/or repurposed in exchange for Eco-points. Eco-points may be used for discounts off Scenturie products.