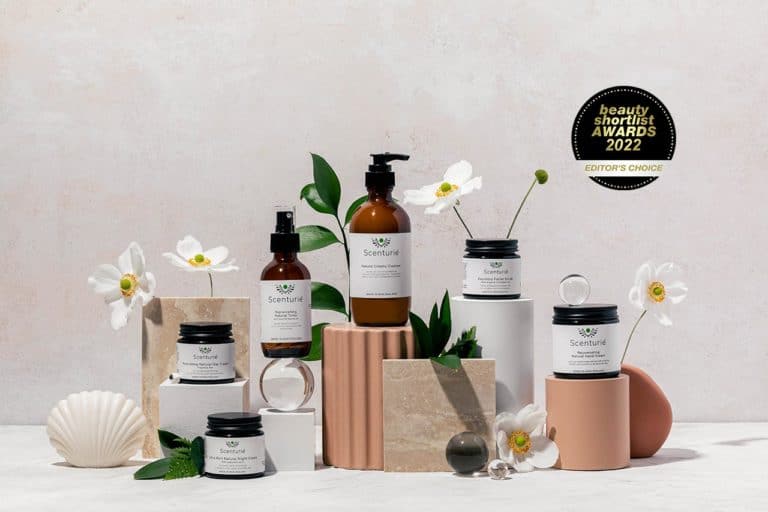 At Scenturie we make nutrient-rich, award-winning, New Zealand natural skincare products that respect our planet, its resources, and each other. We want to treat you to all the benefits a healthy, nourished, glowing complexion can bring!
To celebrate six of our products winning awards at the prestigious International 2022 Beauty Shortlist Awards, we are giving you the opportunity to win a skincare set containing our award-winning, 100% vegan, cruelty-free products.
All the ingredients in our natural skincare products are plant-based, nutrient-rich, and ethically sourced. We avoid synthetic chemicals, known irritants, and synthetic fragrances, inviting you to enjoy the subtle fragrance of unrefined plant oils and essential oils, the way nature intended them to smell.
To enter, simply add your name and email address to this form to subscribe to our email newsletter. Each month, we will send you helpful advice about how to take care of your skin. Once you enter your details, you will go in the draw to win one of three Scenturie skincare sets containing our six award-winning products (pictured above). These sets include our Natural Creamy Cleanser, Replenishing Natural Toner, Nourishing Natural Day Cream, Ultra-Rich Natural Night Cream, Espresso Facial Scrub, and a Rejuvenating Natural Hand Cream (RRP:$230).
Make sure you follow us on Facebook & Instagram for updates, promotions & beauty insights.
Good luck!
T & C's: Entries close at midnight 31st May 2022.
Three winners will be drawn at random on Wednesday 1st June 2022 and notified the same day via email. Winners will also be published on our Facebook and Instagram pages. Offer is available to new and existing subscribers who are residents of NZ and Australia aged 18 and over.
Prizes are non-refundable and non-transferrable and decision is final. By entering you agree to receive our emails.